The biggest and best in Laniakea.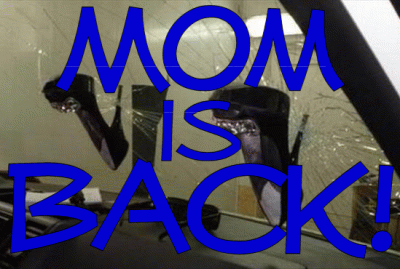 Ask your favorite club manager, "Who is Sweet Mother?"
Mom is going through a little mid-life crisis, so the other night she headed to a party at a great little bar in the Delta that serves the best fried pickles in the world. She started walking from her car and got about half way there when she heard a band playing in an old warehouse, so she decided to stick her head in.
Inside was one of the most beat-up, in need of help, P.O.S. clubs you've ever been in, worse than the Mattress Factory or Bottle's Bar and Shotgun Emporium. Through very dim lights and a cloud of smoke she saw a blues band playing in the back corner, so she went in, ordered a beer at the bar and sat at a table. She was soon joined at her table by both sexes and asked many questions. It came out that she was a musician, and, sure, she'd sit in. The band was one of the best she had heard, which she knew would push her to play her best. As she began, the whole room began to turn to the stage. Soon she was at full stride and rocking the house. After about three numbers she decided to take off on an extended solo. Mind numbing solo. When she finished the people stood as one, clapping, whistling and cheering. She could do without fried pickles for a while longer.
More coming soon...
The members of Sweet Mother are continually practicing so that they are ready when the muses call. When bookings are updated, we'll try to keep you in the know if you like us at
https://www.facebook.com/SweetMotherBand
, or you can sign up for our
email alerts
. It's quick & easy, and we keep the list secure. Mom doesn't ask for much and it would make her so happy. Thanks, Hon.
---
---
The Boys in the Band.
We've gathered the most accomplished musicians together to give you a dynamic range of rock music you're sure to enjoy. With over 100 years of combined experience playing all types of music in all kinds of bands, you are sure to enjoy the technical prowess, the musicality, and the drive the group exhibits.
Come see and hear what Sweet Mother is all about.
They're not the same old song and dance. The highly skilled and creative musicians of Sweet Mother play some of the best in classic rock, including music from Joe Cocker, The Beatles, Steely Dan, Little Feat, Stevie Ray Vaughn, & the Blues Brothers. Plus they perform some of the most diverse and musical originals you'll ever hear. They bring together all of the elements of music to create an experience that's just plain fun to listen to.
---
Would you like the perfect band for any occasion at your club, party, festival or event?
Contact us
with requests or questions. We'd like to bring the Sweet Mother musical experience to you.